✱ 2009 Cold Ice Factory began its successful journey in a small facility, in the Metn area with a daily production of 6 tons of packaged ice, delivered by 2 pick-up trucks with freezers.
✱ 2010 Cold Ice Factory seized the strategic opportunity of the growing demand for packaged ice and acquired new ice making & packaging machines, which doubled its production capacity to 12 tons per day.
✱ 2012 Cold Ice Factory relocated to the present larger plant.
✱ 2014 Cold Ice Factory expanded its production capacity to 30 tons per day, as well as, its delivery fleet to 5 freezer-equipped trucks.
✱ 2015 was a turning point, as Cold Ice Factory was the pioneer in introducing Automation in the Lebanese Market.
✱ 2017 Cold Ice Factory storage capacity had reached 2900 cubic meter, and its growing fleet of delivery trucks covered the whole Lebanese territory.
✱ 2018 another benchmark was exceeded when Cold Ice Factory became the largest producer and distributor of Ice in Lebanon, with a production of 45 tons of ice per day, delivered by 10 new GPS-monitored trucks.
Cold standards are the gold standards of ice!
Family Values.
Big company capabilities.
The Derghazarian family took over Cold Ice Factory in 2009, and have slowly but surely grown the company to what it is today. Every customer, and every employee matters just like the first.
Free Quote on the Hotline
We're ready to assist you.
Just give us a call!

COLD is a proud member of the International Packaged Ice Association (IPIA).
We strictly adhere to the IPIA's Packaged Ice Quality Control Standards (PIQCS), as well as to the quality and hygiene norms required by the Lebanese MoPH (Ministry of Public Health.)
Thorough Purification
Water is filtered using reverse osmosis & UV treatment, it is then passed through a state of the art water softening system for extremely clear, clean, premium quality ice.
Ice Storage, Lots Of It!
In 2009 we first started with a single cold storage room. Now we're proud to say we can hold up to 600 tons of ice at once, ready to be delivered at any given moment.
Fast & Friendly Service
With a growing fleet of 11 Cold Ice trucks, we cover a wide territory in Lebanon, accompanied with great support and on-terrain customer service.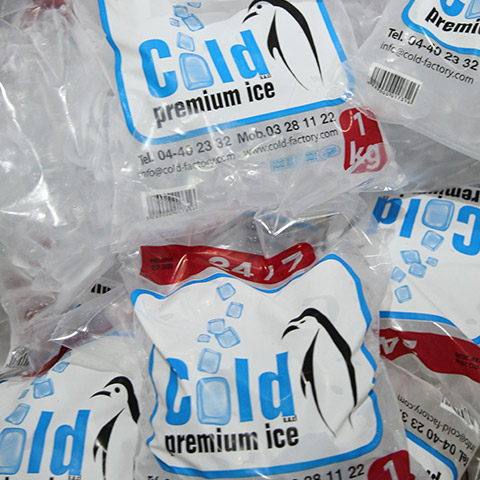 ICE, ICE BABY!
Crystal clear transparent ice, perfect for juices and cocktails. Our best seller, comes in various packages!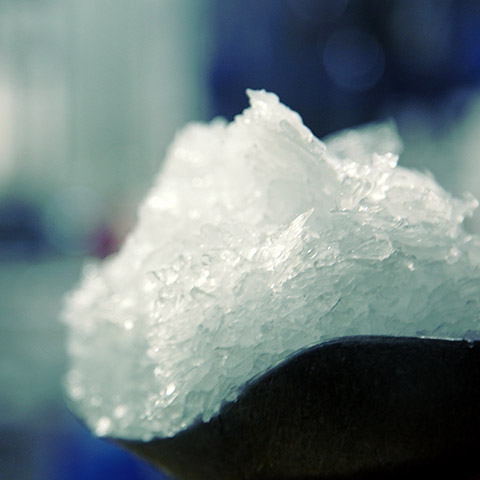 CRUSHED ICE
Our summer refreshing best-seller. All occasions are better off with some crushed ice freshness.
CUSTOM CUBES
When high-end cocktail making requires that little extra perfection. We provide them in the size you like.
SCUPLTED ICE
With top-of-the-line ice scuplting machines, we provide any custom design for your event.
Write us a line and we'll get back to you as soon as possible.
Rabieh Plaza, SS2, Bikfaya Main Rd. Antelias
Tel/Fax: +961 4 40 23 32 | Hotline: +961 3 28 11 22
E-mail: info[at]cold-factory.com
Frequently Asked Questions
What do I do if I need a lot of ice for a large event?
How do I get COLD at my store?
Where do you deliver to?
All across the Lebanese territories.
Why is there a "cloud" in the middle of the ice cubes we make at home?
When you make ice at home, the water sits idle or stagnant in trays waiting to freeze. The "pure" water will freeze first on the outside pushing suspended solids and debris into the middle of the cube where they will eventually be trapped by the water freezing around them. The cloud is the result of these "suspended solids" and foreign debris being trapped in the middle of the cube. That is why homemade ice is clear on the outside and cloudy on the inside. COLD Ice's unique freezing process eliminates the "clouds" from the ice. Just pure water being frozen.
How is COLD Ice "naturally filtered"?
The laws of nature dictate the pure water freezes at zero degrees and water containing suspended solids, debris or other chemical makeup will have a lower freezing point. COLD Ice freezes water while it is in motion allowing for the pure water to freeze first. At the end of the freezing process the pure water has been made into ice and the left over "heavy" water is removed and used elsewhere in the refrigeration process. Freezing water in motion allows COLD Ice to make pure, sanitary food grade product.
Is COLD ice laboratory tested?
All of our production facilities have product samples tested by an independent third party laboratory to ensure a pure product.
Are the production facilities inspected by certified agencies?
COLD Ice is a member of the International Packaged Ice Association (IPIA) that mandates our production facility is inspected and certified by the Lebanese Ministry of Public Health (MoPH).
Do you make ice blocks?
Yes, we do manufacture and distribute block ice products. COLD Ice supports a packaged block product and we are able to service requests for the larger 100-kilo blocks that can be used for carvings or larger scale commercial needs.
How can I set up a delivery / service?
Please contact us with your request and one of our representatives will work with you to meet your needs.
Is it "cool" to work at COLD?
We hear this one a lot when it's 38 degrees outside and sweat is dripping off your brow. At COLD Ice, we give our people the tools to meet the needs of our customers. We have a "cool" culture with great people and great customers.